So I've been interested in measuring weather conditions for several years now, ever since I got a small Radio Shack outdoor wireless thermometer back in the day. Over the years, I've been upgrading them adding a few features each time. This is my latest version. The AcuRite 5 in 1 Professional Weather Center.
There are several variants of this weather station with different sensor and display unit options. The one I have is the Model 02064C. It includes mounting hardware, the outdoor sensor assembly and the indoor display unit.
The 5 in 1 Sensor measures outdoor Temperature, Humidity, Wind Speed, Wind Direction, and Rainfall. The Indoor Unit measures indoor Temperature, Humidity, and Barometric Pressure, and displays all the info together. It also can calculate Wind Chill, Heat Index, and stuff like that. On the bottom is a text display that cycles through various information such as moon phase, high temp of the day, etc.
For mounting the outdoor sensor, the manual recommends an open area free of obstructions and at least 5 feet off the ground. Ideally it should be above any buildings and such. But I live in the city so the best I could do is along the backyard fence. I used an existing pole that was cemented into the ground for an old satellite dish as a base, and strapped on a 10 foot steel pipe that would fit the sensor mounting hole using wireties and bungie cords. I'll add some clamps later. Here's what it looks like mounted outside.
And finally, the indoor display unit all setup and synced to the outdoor sensor.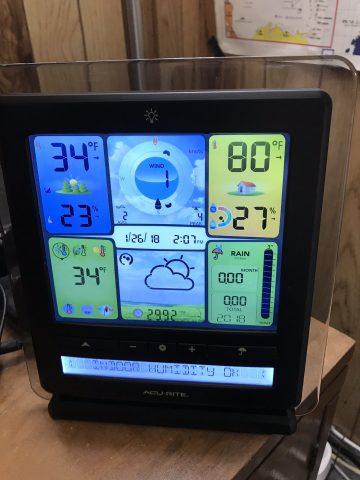 Finally, here's a short video of a walkaround of the outdoor install. Seems to be working well so far!